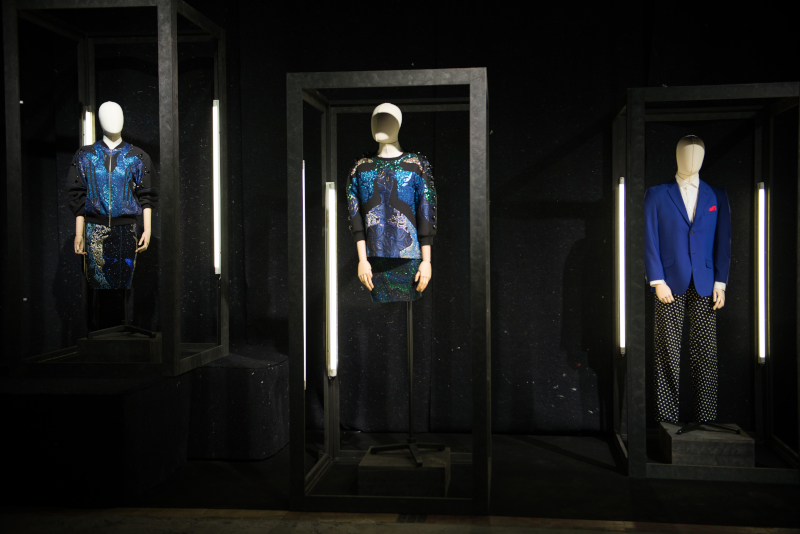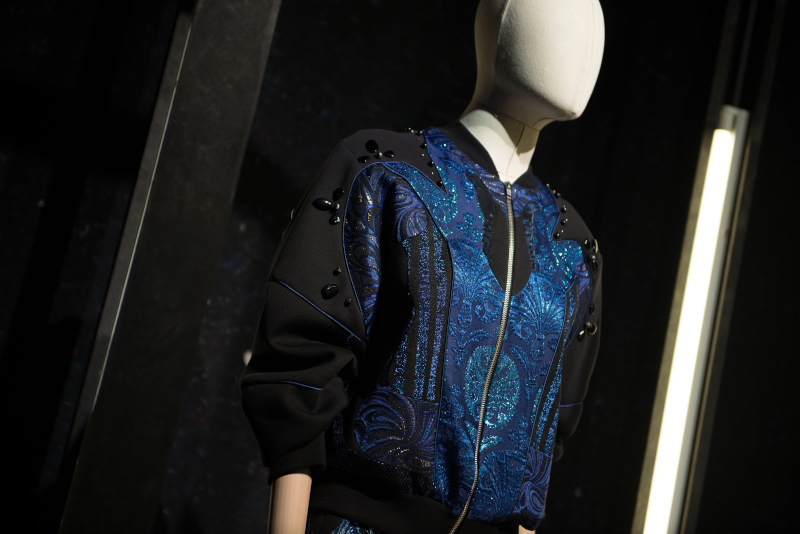 Praska Drukarnia w ostatnim czasie intensywnie przeżywa swoje 5 minut.
Przestronna, industrialna hala mieszcząca się przy ulicy Mińskiej 65 nieustannie inspiruje i dzięki swojej niemal nieograniczonej powierzchni pozwala popuścić wodze wyobraźni i wykreować niejedno widowiskowe wydarzenie.
Na pokazy Mariusza Przybylskiego media wyczekują z utęsknieniem. Dlatego za każdym razem jego kolekcje są przyjmowane z ogromnym entuzjazmem, a każda premiera Jego nowej linii stanowi swoisty spektakl.
Tym razem Projektant porwał nas w podróż po swoim mrocznym lecz niezwykle zaczarowanym świecie mody.
Od samego wejścia na Gości czekało mnóstwo niespodzianek. Począwszy od stojących na catwalku kałużach, poprzez rusztowanie, które w trakcie pokazu stopniowo odsłaniały kłęby dymu skończywszy na nieco niepokojącej muzyce idealnie spajającej poszczególne elementy scenografii.
Tego wieczoru wybiegiem zawładnęła głęboka czerń, której Przybylski jest wierny od samego początku swojej twórczości i która przewija się w dominującym stopniu w każdej z Jego kolekcji. Lecz tym razem i ona musiała ustąpić zaskakującej palecie bloków kolorystycznych, w których znalazła się intensywna purpura, karminowa czerwień, oranż oraz kobaltowe indygo.
Nie mogło również zabraknąć symetrycznych cięć, dzięki którym Projektant zyskał uznanie, a także misternych, kalejdoskopowych haftów i koronkowych aplikacji. Dodatkowo podobnie jak i w poprzedniej kolekcji Designer kontynuował estetykę wiktoriańskich krojów, bufiastych rękawów i romantycznych wielowarstwowych falban, a także zdekonstruowanych geometrycznych sukienek. Dużym uznaniem wśród publiczności cieszyły się denimowe, marmurkowe jeansy wyrwane rodem z lat 80-ych, a także transparentne golfy i koszule z egzotycznym, wężowym printem.
Kolekcja Dark Wonderland to historia o ludziach pełnych sprzeczności: Zdecydowanych i pewnych siebie lecz  jednocześnie romantycznych i subtelnych.
Eventy Przybylskiego to prawdziwa uczta dla zmysłów, której Goście są wyjątkowo selekcjonowani. Na Pokazie zagościła Kasia Figura, Anna Dereszowska, Katarzyna Warnke z Piotrem Stramowskim, Monika Olejnik i Kasia Stankiewicz oraz Weronika Książkiewicz i Ada Fijał, a także mnóstwo przyjaciół i współpracowników Projektanta. Dlatego również dziękujemy za zaproszenie ! 🙂
Photos: Magdalena Niemyjska/Femmestudio.