W swoim życiu i pracy otaczam się wyrazistymi ludźmi o niebanalnym i pozytywnym usposobieniu,  o czym świadczyłaby współpraca z Jagodą Judzińską. Dlatego tym razem przed naszym obiektywem stanął równie niepokorny co sympatyczny uczestnik ostatniej edycji Top Model – Aleksandr Muzheiko.  Chłopak, który bez mrugnięcia okiem przyjechał z Ukrainy aby spełniać swoje marzenia i realizować pasje.
Skrzyżowanie naszych dróg było kwestią czasu i jak się szybko okazało-w życiu nie ma przypadków o czym przekonałem się po raz kolejny.
Z Sashą łączy nas coś więcej niż współpraca na płaszczyźnie zawodowej. Oprócz wspólnych pasji i zainteresowań dzielimy tę samą metrykę. Nieczęsto się zdarza, aby osoby urodzone tego samego dnia, miesiąca i roku się spotkały, a tym bardziej współpracowały podczas sesji zdjęciowej. Zwłaszcza, że 24 stycznia obchodzimy wspólnie 24 urodziny.
Dlatego dzisiejsza publikacja jest niejako naszym wspólnym prezentem urodzinowym.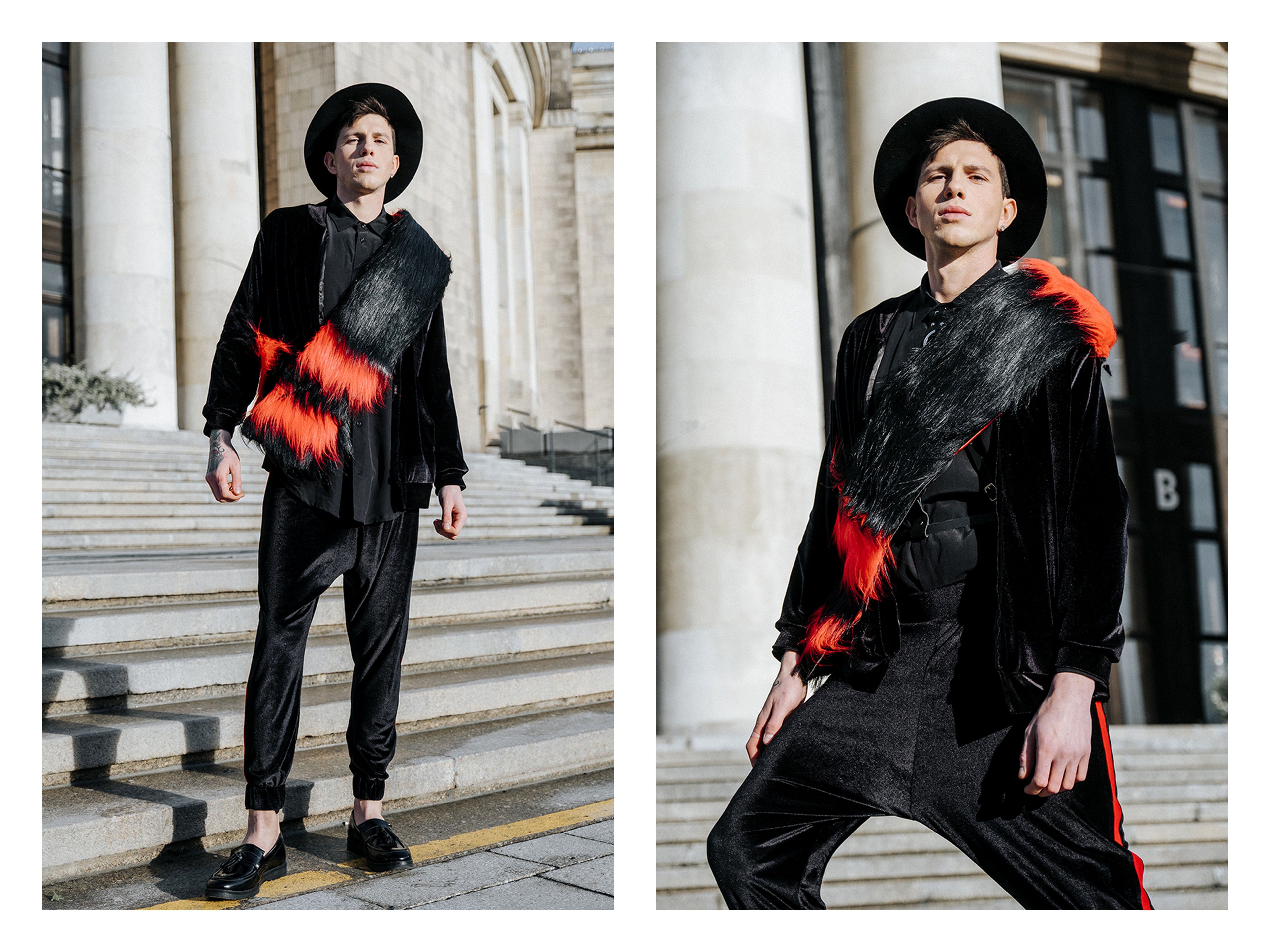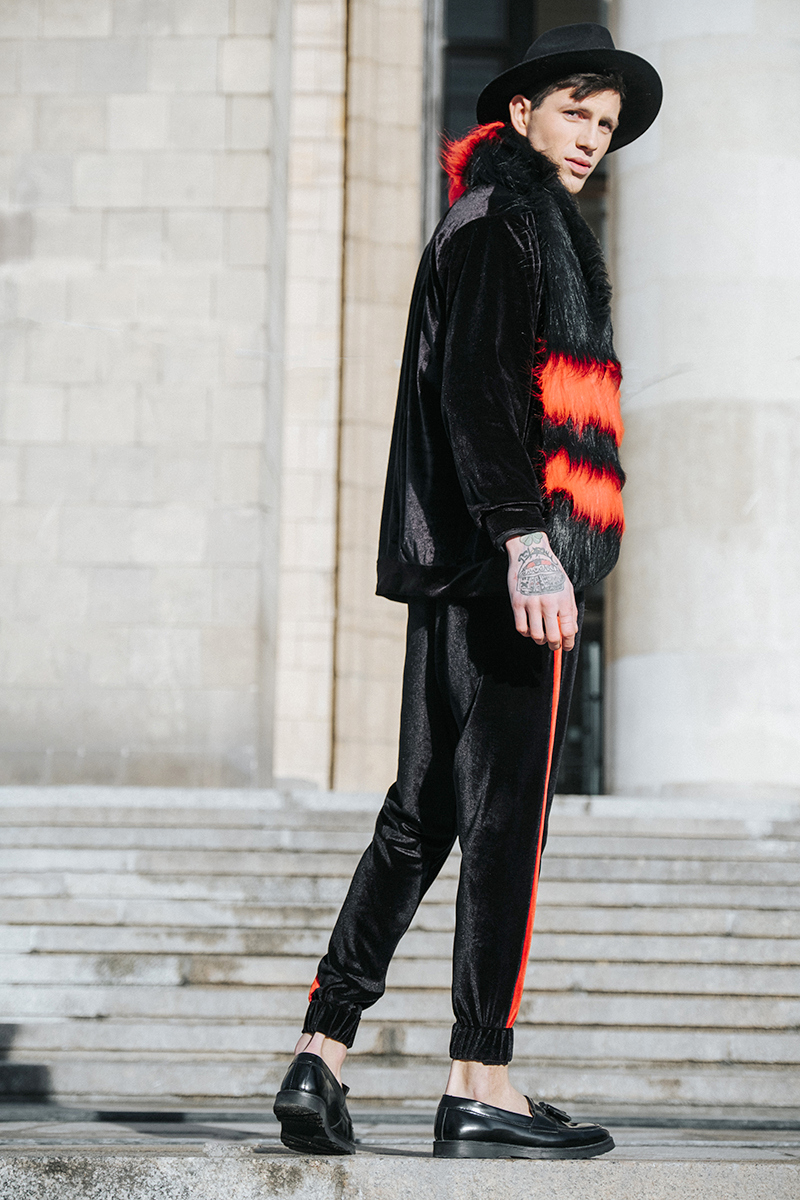 Od pewnego czasu pracujemy nad projektem, w którym zestawiamy najgorętsze elementy danego sezonu w jedną całość i miksujemy kroje, kolory, faktury, które prezentują największe domy mody a także znajdują odzwierciedlenie na pierwszych stronach kolorowych czasopism. Czego efektem jest również dzisiejsza sesja.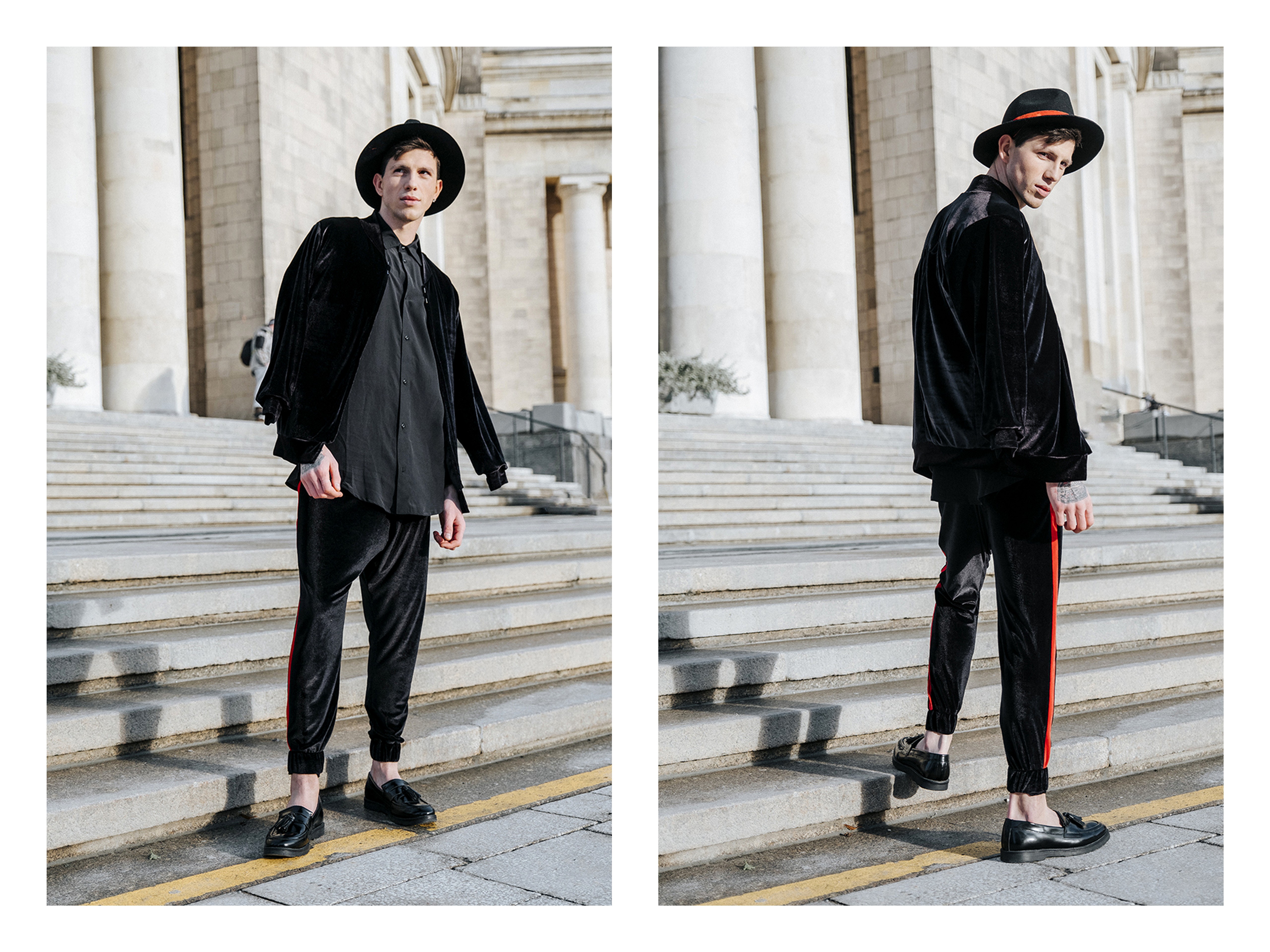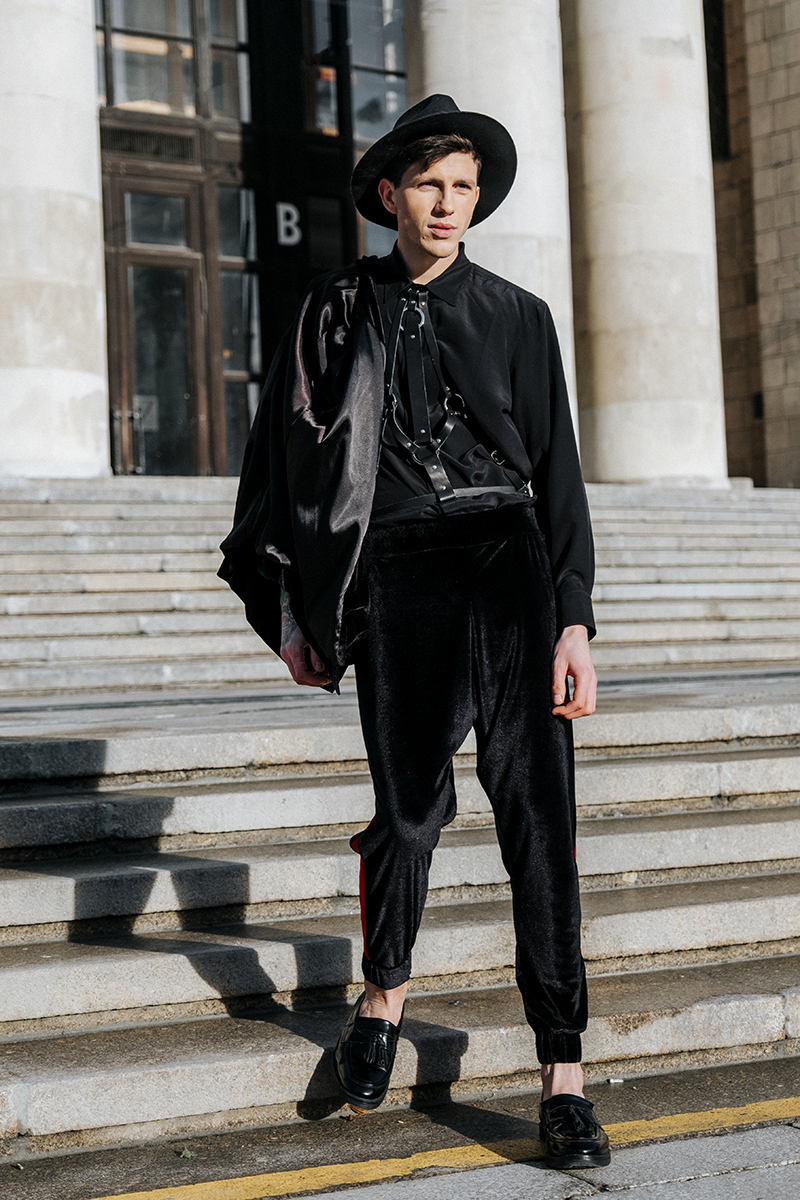 Niewielu z nas spodziewało się, że welur z równie wielkim impetem co kilkanaście lat temu wkroczy na światowe wybiegi a także na dobre ponownie rozgości się w naszych szafach. To właśnie on stał się motywem przewodnim stylizacji, której podstawą jest czarny welurowy komplet składający się z dwustronnej, haftowanej bluzy o kroju bomber jacket oraz spodni typu joggers z krwistoczerwonymi lampasami.
Wraz z półmatem, a zarazem subtelnym połyskiem weluru współgra czarna jedwabna, matowa koszula o przedłużonej linii dołu.
Na szczególną uwagę zasługują dodatki, które nie pozostają bez znaczenia. Skórzana uprząż nadaje stylizacji niebanalnego charakteru i podkreśla jej indywidualność przenosząc ją w nieco rockowy klimat, zaś intensywnie czerwona welurowa wstążka u kapelusza niemal książkowo koresponduje z lampasem u spodni.
Najwyrazistszym  elementem stylizacji jest niewątpliwie etola ze sztucznego futra, która powstała w oparciu o przewodnią kolorystykę ubioru.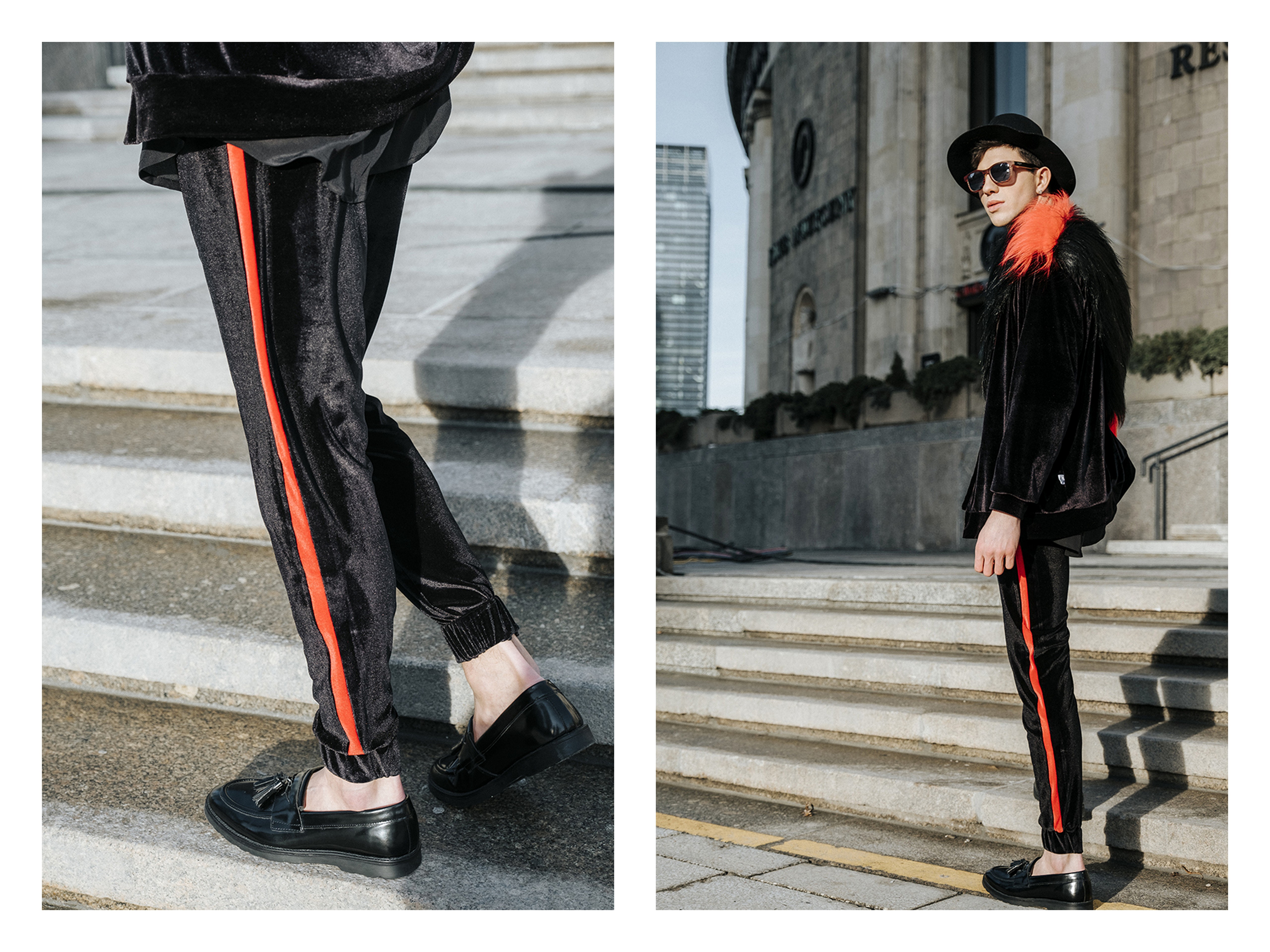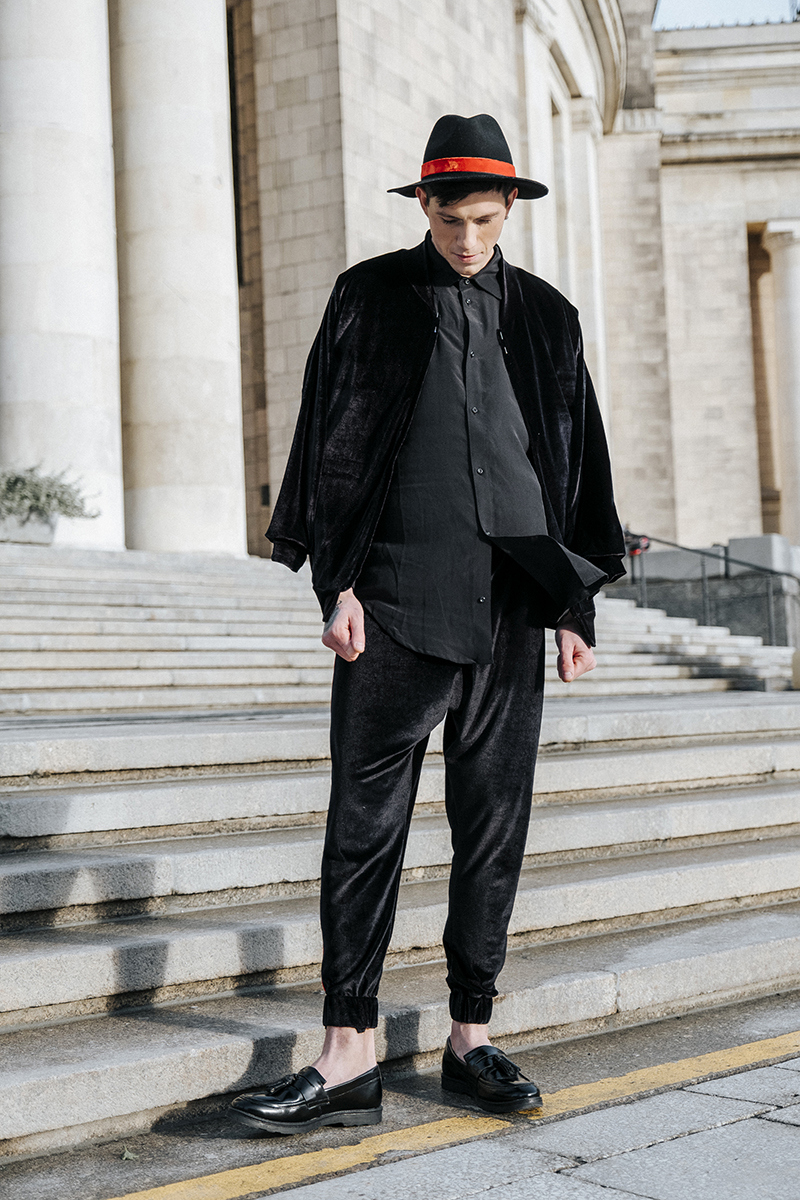 Look uzupełniają czarne loafersy a także industrialne, drewniane okulary w poziome pasy.
Myślę, że to świetna chwila, aby oficjalnie ujawnić, iż dzisiejsza publikacja stanowi jednocześnie zapowiedź mojej nowej kolekcji.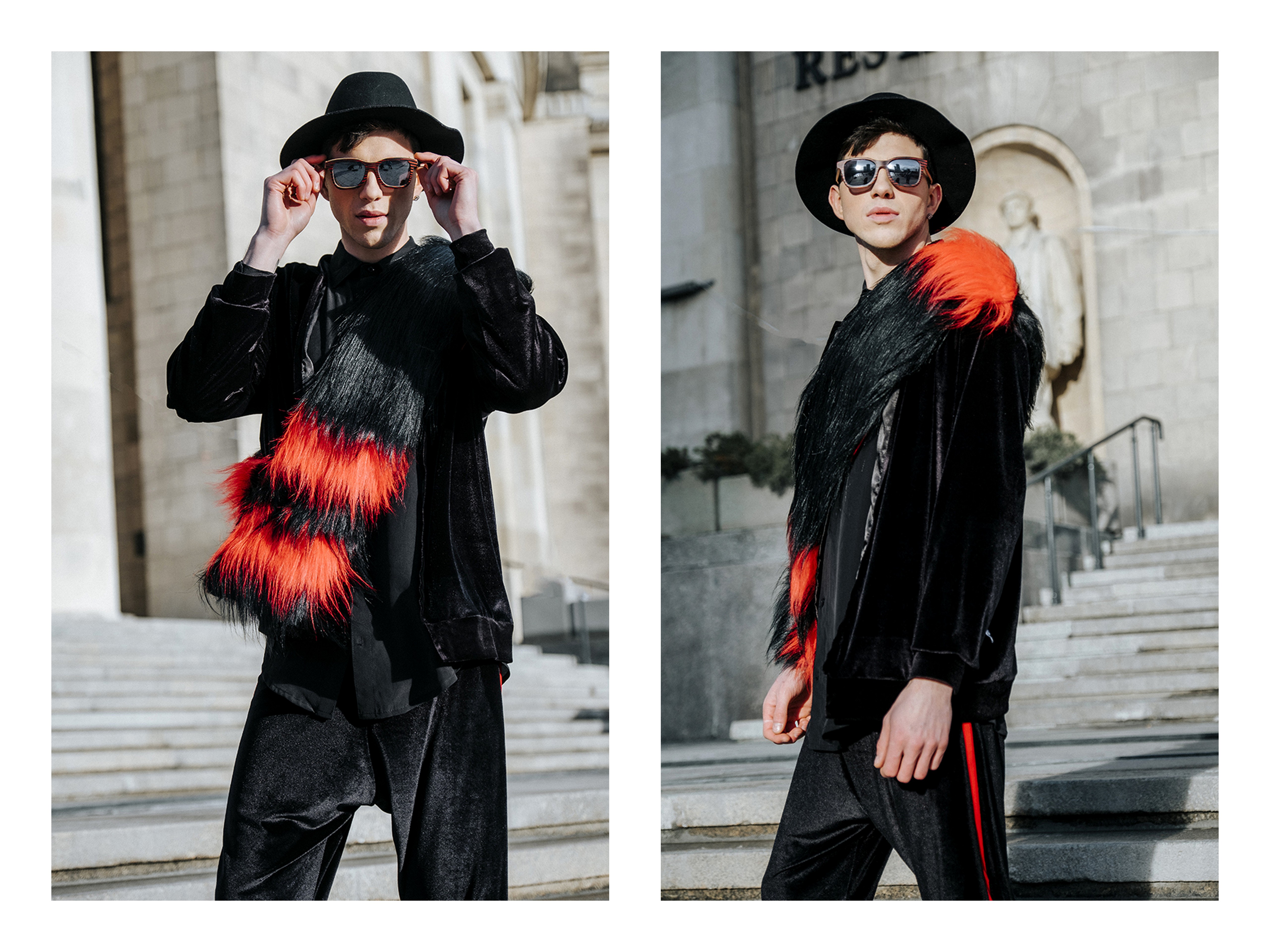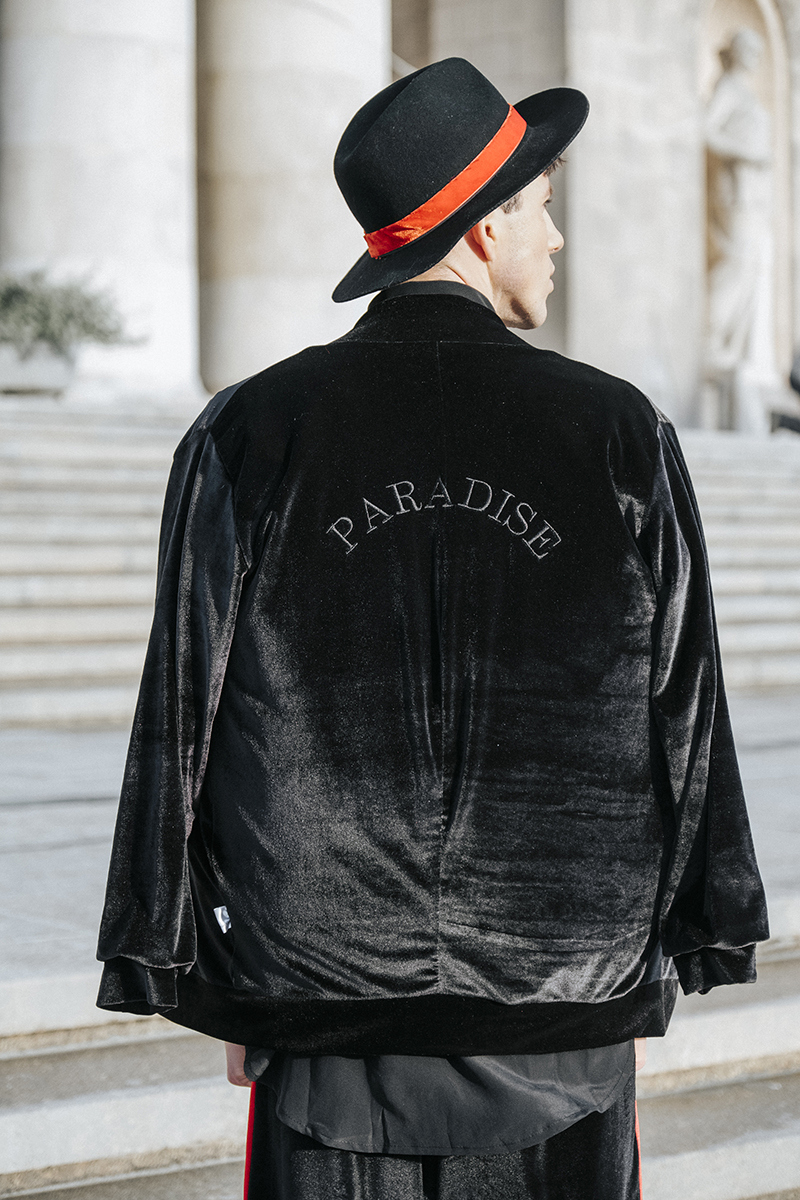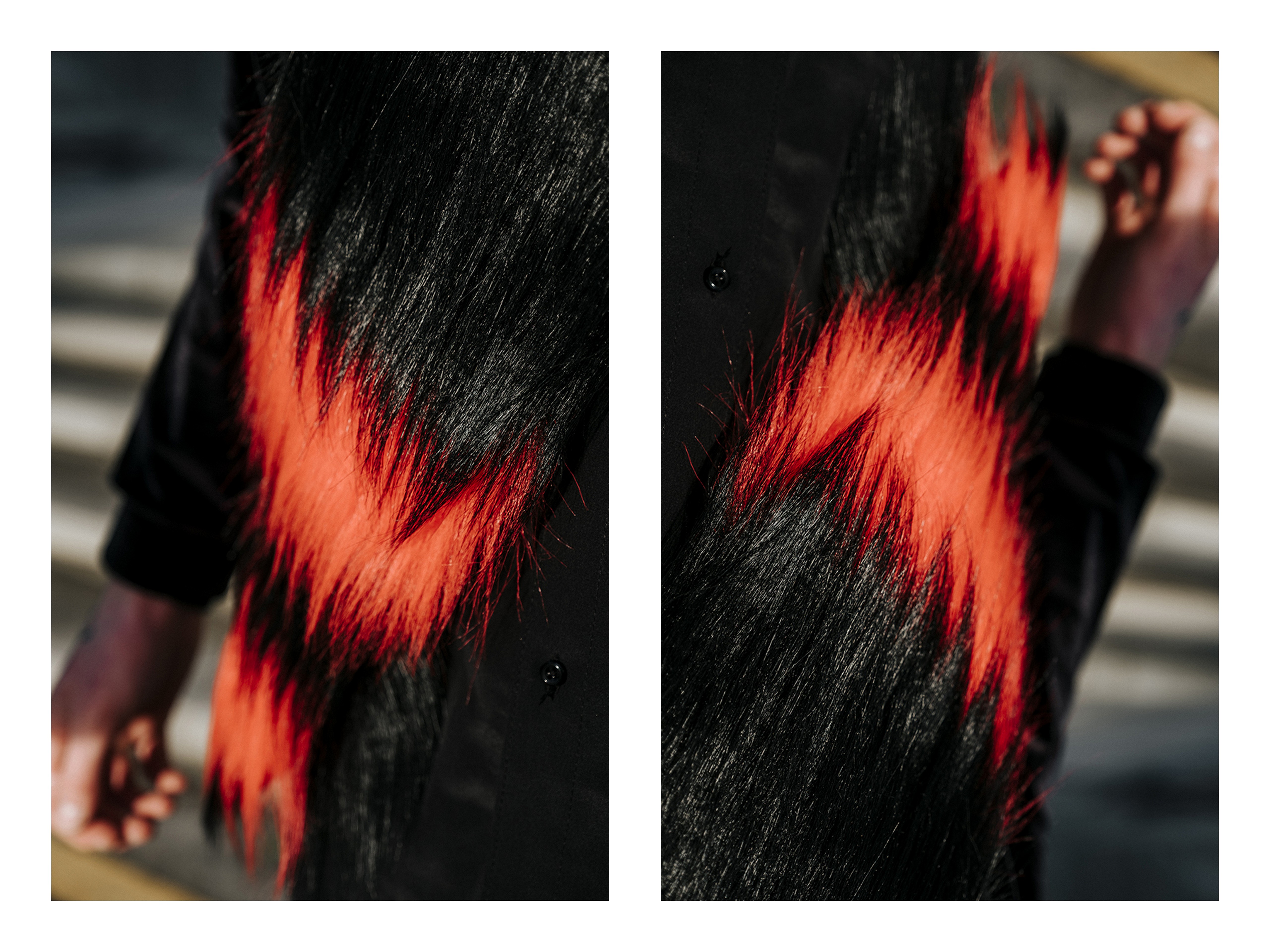 Pozdrawiam,
Przemysław Guryn
Hat: Anja Rubik x Mohito
Sunglasses: by Lange
Fur Scarf: by Guryn x efutro.pl
Silk Shirt: Łatka Fashion
Harness: Soospenders x wear.live.style
Bomber Jacket: by Guryn
Trousers: by Guryn
Loafers: Asos
Model: Aleksandr Muzheiko
Mua: Dorota Lange/Centrum wizażu i charakteryzacji Doroty Lange
Style: Przemysław Guryn
Photos: Magdalena Niemyjska/Femmestudio